Image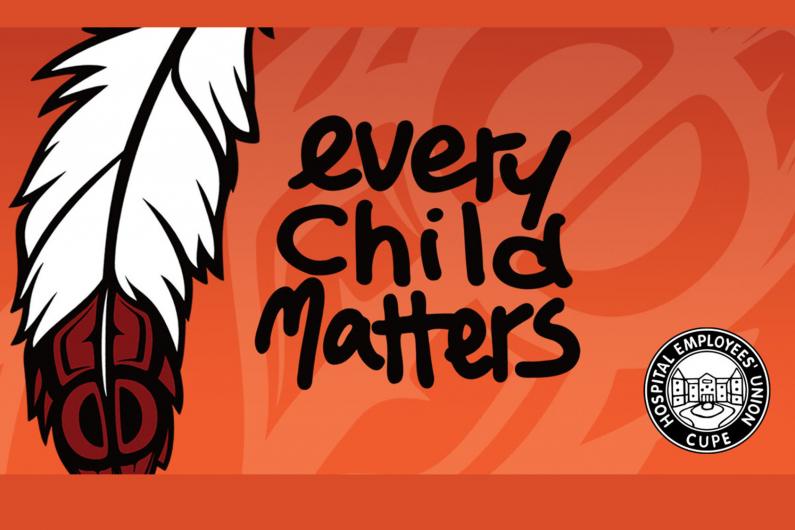 This year, for the first time, September 30th will be marked as a statutory holiday - the National Day for Truth and Reconciliation.
For many years, this day has been commemorated as Orange Shirt Day, based on the story of residential school survivor Phyllis Webstad, who as a child, had her new favourite orange shirt stripped from her on her first day of attending residential school.
This new national holiday brings people together in the spirit of reconciliation to honour residential school survivors and their families. 
From the 1870s to the 1990s, the residential school system was a collaboration between the Government of Canada and mainstream churches to remove Indigenous children from their communities, and from their families and culture.
This year, the unmarked graves of thousands of Indigenous children from residential schools have been discovered and is a horrifying reminder of the atrocities of the residential school system and the genocide of Indigenous peoples in Canada.
Today is a day to reflect on this truth and commit to reconciliation.
Below is a list of actions that you can take to commemorate this day, including online and in person events around the province that you can attend.
Actions:
Online Events:
In Person Events:
Abbotsford, University of the Fraser Valley | Sept 29, 9:00 a.m. - 8:00 p.m. Lex̱éywa Art Activism: A recalling of a residential school experience  
Chilliwack | Sept 30, 4:00 p.m. Truth Marking Walk with Wilma's Transition Society
Coquitlam, Lafarge Lake | Sept 30, 2:00 p.m. Drum for the Children: Orange Shirt Day/National Day of Truth and Reconciliation
Dawson Creek | Sept 30, 3:00 p.m. Orange Shirt Day March
Kelowna, Okanagan Heritage Museum | Sept 30, 12:00 p.m. - 4:00 p.m. & Oct 2 10:00 a.m. Family Orange Shirt Days
Maple Ridge, Memorial Peace Park | Sept 30, 7:00 p.m. National Day for Truth and Reconciliation Community Vigil  
Mission, Fraser River Heritage Park | Sept 30, 11:00 a.m. National Day of Truth and Reconciliation with Phyllis Webstad
Nanaimo, Maffeo Sutton/ Swy-a-Lana Park | Sept 30, 10:00 a.m. - 2:00 p.m. Honouring Our Children & Survivors on National Day for Truth and Reconciliation
Port Alberni, Harbour Key | Sept 30, 11:00 a.m. - 4:00 p.m. Orange Shirt Day Walk  
Port Moody, Noons Creek Hatchery | Sept 30, 1:30 p.m. - 3:00 p.m. Honouring the Children: Orange Shirt Day  
Prince Rupert, Prince Rupert Middle School Track and Field | Sept 30, 1:00 p.m. - 5:00 p.m. Truth and Reconciliation Walk
Terrace, Millennium Trail | Sept 30, 2:00 p.m. to 4:00 p.m. Every Child Matters 5K Walk - Tears for the Children, Hope for the Future
Vancouver
Grandview Park | Sept 30, 9:00 a.m. - 2:00 p.m. Orange Shirt Day Elders' Walk with the Britannia Centre
Šxʷƛ̓ənəq Xwtl'e7énḵ Square 850 W. Georgia Street | Sept 30, 12:00 p.m. Xweýene:msta:m ?əkwəsqwel, seýemSiYo
Rio Theatre | Sept 30, 4:00 p.m. Orange Shirt Day: Beans (Filmmaker Q+A)
Rio Theatre | Sept 30, 7:00 p.m. Orange Shirt Day: Don't Say its Name (BC Premiere/ Director Q+A)
Victoria
University of Victoria | Sept 29 9:00 a.m. - 4:30 p.m. Orange Shirt Day  
Centennial Square | Sept 30, 10:00 a.m. - 12:00 p.m. National Reconciliation Day Ride
Sno'uyutth Welcome Pole in front of Oak Bay High School | Sept 30, 10:00 a.m Honouring Children and Survivors
Hampton Park | Sept 30, 11:00 a.m. Unveiling of territorial acknowledgement plaque
Centennial Square | Sept 30, 12:00 p.m. - 2:30 p.m. Xe xe Smun' eem-Victoria Orange Shirt Day: Every Child Matters Ceremony  
Art Gallery of Greater Victoria | Sept 30, 12:00 p.m. - 5:00 p.m. Holding Ground (Open house for Indigenous-led exhibition)  
Canadian College of Performing Arts | Oct 1, 7:00 p.m. Picking Up the Pieces: The Making of the Witness Blanket (film screening with ReconciliAction Oak Bay)
Williams Lake
St. Joseph's Mission site | Sept 30, 1:00 p.m. Ceremony to honour the Nationa Day for Truth and Reconciliation with Williams Lake First Nations  
Kiwanis Park | Sept 30 Story Walk (self-guided)  
Thank you to the BC Federation of Labour for supplying this event list.
For an updated list of events, please visit bcfed.ca/events