From the Winter 2022 Guardian
Image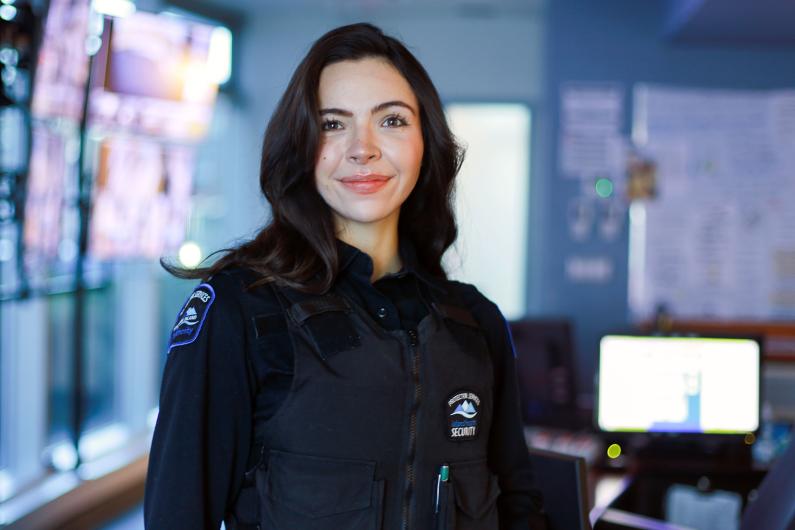 The Ministry of Health's announcement to hire 320 in-house protection services officers to address violence in B.C. hospitals is welcome news for many workers and unions. 
"Injuries from incidents of aggression or violence are the second largest reason for time lost at work, especially for our care aides," says HEU secretary-business manager Meena Brisard.
"In fact, nearly two-thirds of all WorkSafeBC time-loss claims due to acts of violence are in the health care sector." 
Luna Lafontine has worked security since she was 17, and has been a protection services officer (PSO) in Victoria-area hospitals for five years.  
Lafontine says she's aware of at least one "Code White" per day – the term hospital staff use to call for assistance in situations with aggressive patients or residents. 
"Regardless of the reason we've been called, establishing rapport with a person is really important," says Lafontine. "Of course, the uniform can really set the tone of a conversation, especially if somebody has had a poor experience with somebody in uniform. 
"But protection services is unique in that we have a heavy emphasis on patient care. There are a lot of things we can offer, that nursing staff might be too busy for, like provide a blanket, or tell patients what resources might be available when they leave the hospital."
De-escalation is always the goal. 
"I put an emphasis on listening and being patient, and getting as much background information as I can."
Image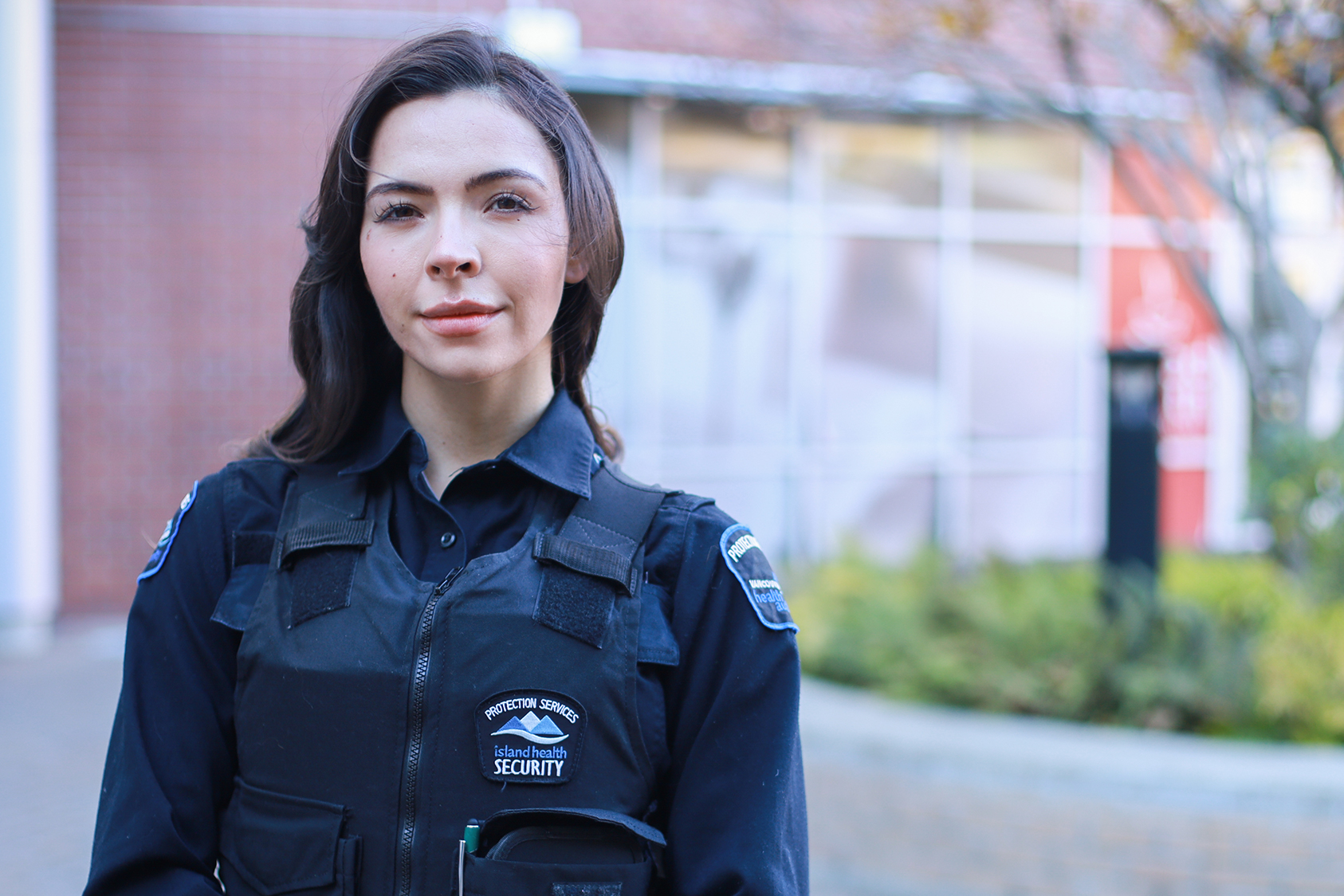 Lafontine, who is training to be a paramedic, understands how medical conditions can affect behaviour. "If they have chronic back pain, they might be lashing out because they're dealing with that pain. Or if they have a seizure disorder, that's something that I need to be aware of."
But despite all efforts, some situations become physical, especially when patients are brought to the hospital by police. 
Yet the most disturbing incident Lafontine recalls involved a hospice patient's agitated family member, who assaulted her as she tried to keep him from re-entering the building.
Lafontine and her partner both ended up on the ground, with the visitor "trying to get his arms around my partner's neck." Only when a third officer arrived were they able to restrain the man.
"Everything unfolded so quickly and I think, if I had been by myself, then that situation would have been pretty awful for me," she says, adding that in smaller hospitals there can be as few as two officers available each shift.
PSOs carry no weapons. Lafontine wears a stab-proof vest and carries handcuffs, so she relies on her team for physical backup and mental support, especially in the aftermath of an incident.
She feels that the acuity of violence is becoming higher. 
"Something that we see frequently is patients coming in with drug-induced psychosis. And a lot of those patients are managed in the emergency department and psychiatric emergency."
This connection is echoed by frontline workers throughout the health care and social services system. Without effective mental health and addiction resources and treatment in the community, vulnerable people often end up at the hospital in a crisis.
More resources in the community would reduce pressure on ERs
Emergency staff, greeters and other public-facing workers experience the bulk of verbal abuse and threats, but violent incidents occur in all areas. 
While support and intervention by security officers is an important safety measure, other factors like wait times, noise, crowded spaces and lack of privacy, are aggravated by ongoing staffing shortages.
"Short-staffed workers haven't got time to observe and calm frustrated patients, and they're often working alone in situations where there should be two for safety," says Brisard.
"In these cases, the solution is more staff to provide focused care for those who may be anxious or afraid or agitated, but unfortunately our members have too many patients and residents to care for.
"That's why we have to deal with the root problems, which is making sure we have enough mental health resources in our communities, so that this level of violence isn't happening at the hospital."
While all health care workers experience high rates of violence, care aides are one of the most vulnerable groups.
Julie Ovens has been a care aide at a Fraser Valley hospital for 30 years, with experience in long-term and acute care. Throughout her career, she's witnessed more than 100 "Code White" situations.
"Our training is that as soon as you feel there's a threat to your safety, you should proceed with the violence prevention safety procedure in your workplace," says Ovens, a longtime OH&S and shop steward.
Image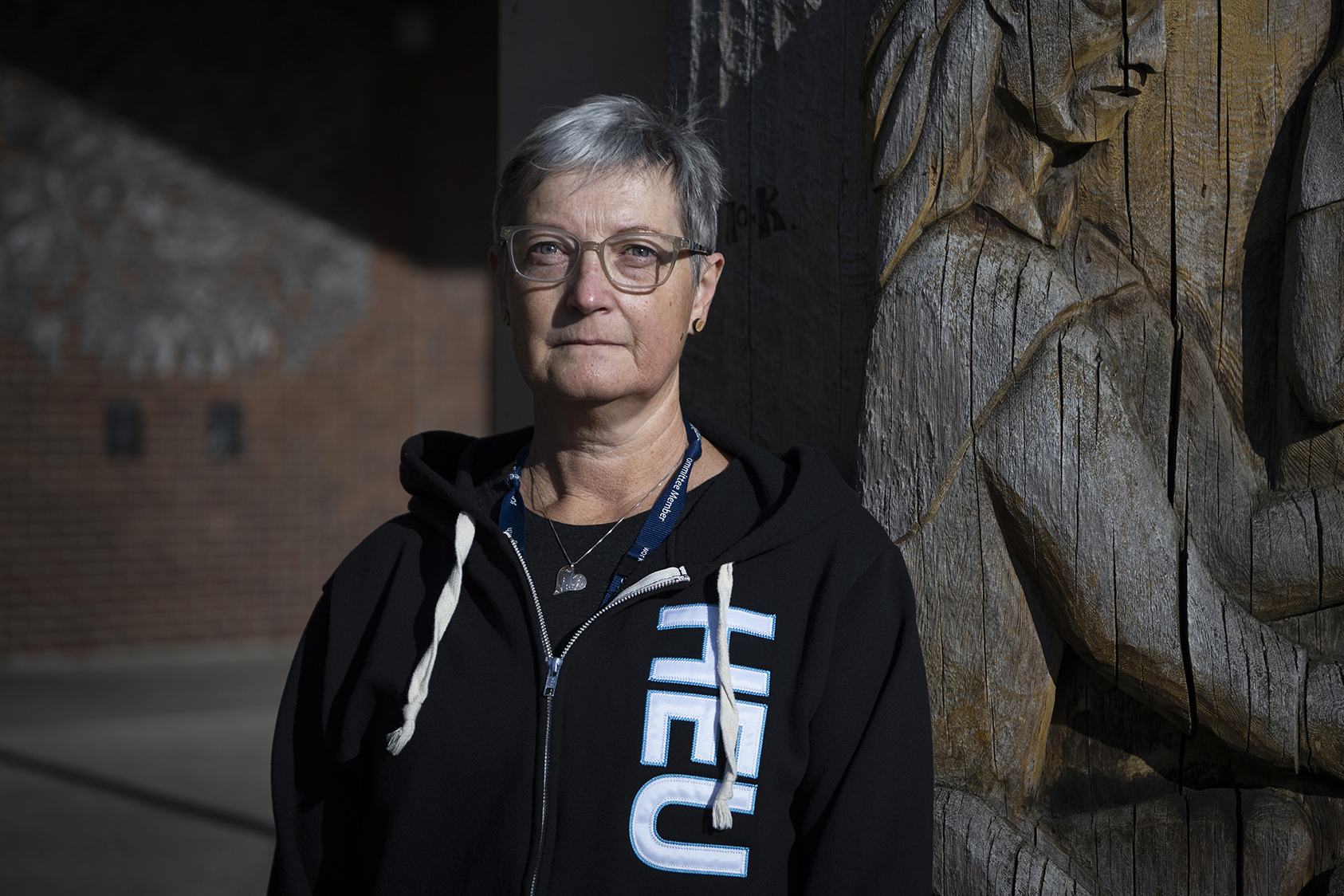 But unless there's a recorded history on the patient, there may be no warning signs. And even if behaviour is escalating, care aides often find it hard to refuse care due to short-staffing. 
"Care aides are trained to take care of the basic needs of people," says Ovens. "So, if there isn't a second person around to assist, you might feel compelled to start doing care by yourself. And that's exactly what happened with one staff member who got really badly injured. 
"The patient was flagged as AVP [aggression/violence prevention], so there should have been two people to take them for a shower, but there wasn't a second person around. The patient seemed like they were having a good day, but once down in the shower, he got violent and smashed the worker's head against the wall."
Most injuries, Ovens says, are the result of workers being pulled or pushed. "Probably almost half of our workplace health incidents are violence-related." 
Incident reports can include verbal abuse, but Ovens says staff are less likely to report verbal assault, or near misses. "People seem to just report if there's actual contact with potential of injury."
Medical conditions are also a factor in abusive behaviour. "Infections are number one. Maybe confusion, if they have dementia. But mainly it's not getting their needs cared for. So, because of lack of staff, people can go a long time without getting a drink or having their pad changed or maybe not getting their food when they should."
Besides adequate staffing levels, Ovens advocates for better training, and a stronger emphasis on incident follow-up and aftercare for workers.
"They offer counselling services, but they don't really go that step further. People have to kind of do the digging themselves. And often the resident that's injured the person is still there. It's really hard to go back to work to that."
Worker input is a vital part of creating effective resident care plans 
In long-term care, developing care plans is a crucial part of keeping workers safe, says HEU OH&S director Georgina Hackett. 
Residents can get agitated, anxious and angry if their daily routines are altered. Something as simple as where a mobility aid is placed, or how toothpaste is dispensed, can make the difference between a resident striking out in anger or feeling safely cared for.
Having enough staff to deliver care in twos, or to trade off tasks if a resident is becoming reactive with one worker, can also help prevent and de-escalate violence.
A care aide at a Coquitlam long-term care facility was off work for 10 days after a resident, who was already known to be unpredictable, struck her on the ear. 
"He was being so calm and cooperative, and then he just swung his hand at my head," says Cora, who has more than a decade of care aide experience. "I went to the nurse and reported the incident, and then I went home, because it's not just the pain, it's the trauma. I was shaking at that point. 
"I returned to work, and I still take care of this resident, but I make sure that the second person is not a new or casual worker because sometimes they don't know the residents. 
"We kind of know now when he could react. We see his facial expression, and then we take more care. One of us holds his hands, talks to him a little bit, tells him we are there to help him, while the other one does the care. And we try to make it quick. That's how we protect ourselves."
Long-term care facilities don't typically have onsite security services. 
"Working as a care aide is not easy physically or emotionally," Cora adds. "Communication is so important among the nursing team, and proper assessment to give the right approach."
Although anti-violence training is valuable, Hackett says many factors are out of the workers' control, especially short-staffing. 
She says residents can benefit from mental health assessments, recreational activities or medication changes, all of which can become part of a care plan that puts a priority on keeping workers and residents safer.
"Everybody needs to be involved in this," says Hackett.
"And while post-incident procedures are important, they don't prevent incidents. We want to prevent things from happening in the first place."
New facilities agreement language addresses violence prevention
That's why the Facilities Bargaining Association team worked hard to get new language in the collective agreement that gives workers the right to input on care planning for an aggressive patient or resident.
It includes the employer providing violence prevention refresher training, and strengthening reporting procedures on harassment from patients and visitors.
Although addressing violence is a complex task, PSOs have an important role in protecting frontline workers.  
In the early 2000s, most hospital security jobs were contracted out to private companies. Protection services were brought back in-house in the Vancouver Island health authority several years ago.
"Protective services officers are a valuable part of the health care team and should all be under the same employer, not privatized," says Brisard. 
"It's critical to coordinating our work on violence prevention across the health care workforce."