Image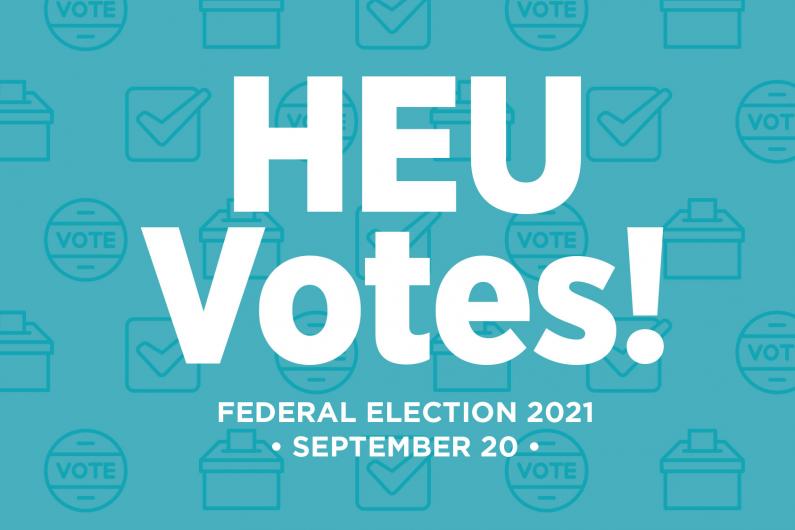 There are four ways you can vote this year.
In person on Election Day Monday, September 20
In person at an Advance Voting Location from September 10 to 13
In person at an Elections Office, until 6 pm September 14
By mail, if you request a mail-in ballot before 6 pm September 14 (your ballot must be returned by Election Day)
Elections Canada website shows all voting locations, dates and times.
Time off work for voting on Election Day
Election Day is scheduled for Monday, September 20, 2020.
According to the Canada Elections Act, all eligible voters "must have three consecutive hours to cast their vote on election day. If your hours of work do not allow for three consecutive hours to vote, your employer must give you time off… Your employer has the right to decide when the time off will be given."
HEU members who do not have three consecutive hours before the polls open or close are entitled to paid time off – your employer can decide if you start late or leave early to accommodate your right to vote.
Please note that this does not necessarily mean that HEU members are entitled to three hours off from scheduled work on Election Day. It depends on your work schedule for that day.
Example: Polling stations in most of the province are open from 7:00 a.m. to 7:00 p.m.*
If you work 9:00 a.m. to 5:00 p.m., you are legally entitled to one paid hour off work to vote.
Your employer may choose to give you one hour at the start or end of your shift, meaning you would report to work either at 10:00 a.m. or leave work early at 4:00 p.m.
You would not get time off to vote if you work 8:00 a.m. to 4:00 p.m. or 7:00 a.m. to 3:00 p.m., as you have three hours uninterrupted to vote outside of your hours of work.
Make sure you have your voter registration card and government-issued photo ID like a driver's licence and/or two documents with your name and mailing address on them when you go to the polling station.
Visit Elections Canada for more information.
*Members in the mountain time zone or the Kootenay-Columbia riding should check Elections Canada or their voter information card for their polling station times.