My wife and I both work in health care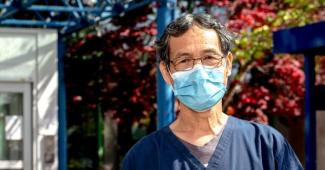 Members Stories
"My wife and I both work in health care. I'm a housekeeper at the general hospital and she's a care aide at a seniors' home. During the pandemic, we both had to keep working even though we were feeling nervous about contracting the virus. It feels safer and normal now, but at the time, it was hard because we didn't feel like we had a choice but to keep working.
In my work, I've got designated floors to clean. I clean the hallways, the washrooms, the patient rooms. The assignment is always the same but it's important work. I've worked a lot of years at this job, so I'm pretty good at it.
I'm turning 65 soon and I've been doing this job for nearly ten years. Our family moved to BC from Montreal to be with our niece. In Montreal, I worked as a factory worker. But when we moved here, the only jobs available were mainly housekeeping jobs. I spent some time working at a casino but then found this housekeeping job at the hospital. It's a secure job that I can stay in for a while.
Our two grown kids have finished college. They're still living with us and would eventually like to move out but we feel nervous about how they'll afford it because it's so expensive to live on your own."
Danilo, Housekeeper, part of the health care team