There's been much more closeness and support between different job groups in the last few months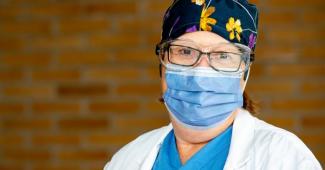 Members Stories
"There's been much more closeness and support between different job groups in the last few months. Now, we often stop to say 'thanks' to the cleaners in COVID rooms.
As Medical Lab Assistants, we collect bloodwork from different departments throughout the hospital, and handle specimens such as COVID swabs. Our work is very time-sensitive.
When the COVID-19 crisis began, it was incredible how much our practices changed. Before the crisis, we would go into rooms to collect the samples we needed without worrying.
With the pandemic, we've added new practices to our work, like putting on and taking off PPE before and after entering a room to collect blood, figuring out what kind of PPE we needed for different rooms, and scheduling the timing of when we go into different types of rooms.
More than that, our practices changed daily, sometimes even hourly, as we continuously learned how to handle the COVID samples. It was hard on everyone because we were constantly trying to keep up-to-date about the best practices.
The mental stress in the first couple of months was draining. On top of our changing practices, it was stressful to think about being in a room with a COVID patient, and then having to go home to our families at the end of the day.
But our team has been so supportive of one another. We offer each other emotional support, and we have managers who want to help us in our work.
What's also been so interesting to see is how much more mutual support there's been between departments and members of different job teams, like cleaning staff and food services. We know that we are all in this together.
In this next phase of the pandemic, with surgeries starting up again and emergency is getting busier, I think there's going to be a lot of anxiety simply because of the volume.
It's going to get a lot busier even though COVID hasn't gone away. It's something we're going to have to include in the mix."
- Delea, Medical Lab Assistant, part of the health care team