When you go home, you worry if today is going to be the day you get someone sick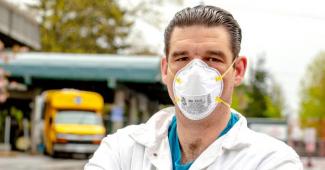 Members Stories

"I do painting and maintenance at the hospital. My work is COVID-related now – putting down boundary lines to mark six-foot distancing between people, and ensuring beds and chairs are spaced out or squared off. I make sure that people have the proper tools to do social distancing.
It's ironic because the people sitting at home want to be at work. And the people deemed essential have to work, but many of them want to be at home instead.
People are grateful that frontline workers are still working, but a lot of people coming to work were worried about the risk. While most people stuck it out, some people left work or went on unpaid leave.
It's a little stressful in the workplace, but everything seems to be going okay. People are getting a little more comfortable with the safety precautions in place. At the beginning, people didn't know if and how they were gonna work.
It's not the most comfortable thing to come to work, and then go home, and worry if today is going to be the day you get someone sick. This must be stressful for the staff who have family members at risk.
The COVID-19 closures have taken a toll on me personally because I am not able to access the services and supports I normally rely on. I haven't been able to go to physiotherapy or massage to alleviate pain from a car accident.
We are all suffering to some degree, but the point is we suffer for a better outcome. We need to think of this not on an individual – but a collective level – because we need to beat this.
The only way to keep it under control is to continue doing what we are doing and to stay positive.
I keep positive by going out to the river once in a while, even if I don't catch any fish, just to enjoy the scenery.
And there's lots of generosity in the community. People write with chalk on the walls: 'Thank you, frontline workers!' And there is a lot of donated stuff through the hospital foundation, which is nice, and staff appreciate it."
- Tony, Painter, part of the health care team