2017 a landmark year for HEU
News Blog
Edition
Guardian Fall/Winter 2017
Looking back over the whirlwind 12 months that shaped 2017, it may well be remembered as a landmark year for the union – a year that engaged more members, fueled more activism, and finally ended a decade and a half of B.C. Liberal rule.
In January, the union hit the ground running with a bold, pull-no-punches campaign on the staffing crisis in residential care.
Our call for higher staffing levels and timely care was taken up by scores of members in their workplaces and on social media, and was backed up with a strong TV advertising campaign that took the message public.
Our goal was to make our demands on seniors' care front and centre in May's provincial election. And indeed, all parties supported the call for more staff in residential care.
Throughout the election period, HEU members mobilized in droves across the province to finally give the BC Liberals the pink slips they so richly deserved. After 16 years of privatization, contracting out, contract-flipping and endless restructuring in health care, many members seized the opportunity to work on local campaigns and press for a change of government.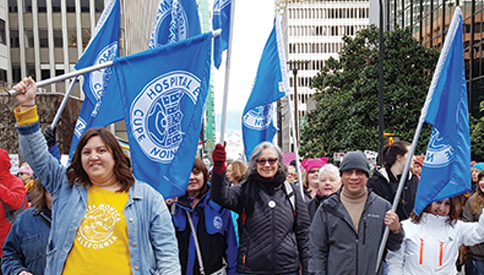 On another front, HEU's 4,000 members working in contracted housekeeping and dietary services succeeded in their 18-month long, uphill battle at the bargaining table.
Through the early days of 2017, and into October, they steadily ramped up their activism across the sector with a series of actions that finally forced health authorities and their corporate employers to meet members' demands for job security and improved compensation (see page 8).
HEU also held a record number of educational gatherings over the past year – the Equity Conference, a weeklong Fall School, and most recently, a Young Workers' Conference – all aimed at building member power.
In fact, 2017 saw more than 1,400 HEU members participate in a range of education and training opportunities offered by the union.
In addition to occupational health and safety, shop steward, and table officers training courses, HEU also launched new courses dealing with addictions, mental health, equity, and truth and recon­ciliation.
And it must be said that 2017 was a year when HEU members showed up.
Whether it was supporting the evacuation efforts brought on by this summer's Interior wildfire crisis, or marching in protest with women, the Muslim community, Indigenous peoples, or the LGBTQ+ community, members expressed solidarity with their local communities and with the global movement for tolerance and justice.
As the union prepares for a new year ahead, with all the challenges and opportunities it may hold, 2017 has laid a strong foundation to build upon.
With collective agreements in the public sector expiring in 2019, HEU members in facilities, community health and community social services will be preparing the key themes and priorities they'll be advancing at the bargaining table.
Bargaining will also be continuing in the independent long-term care sector, and HEU members across the province will be convening in the fall for the union's 31st biennial convention.
And early in the year, the union will be looking to the provincial government's February budget to deliver on programs and policies that will make life better for our members and for all British Columbians.