2018 – A giant leap forward
From the Guardian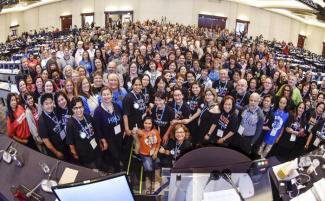 News Blog
For HEU, 2018 brought a tidal wave of change.
After many years of unrelenting advocacy, struggle and member activism, the union achieved major gains on many fronts.
Following an ambitious, two-year campaign to raise staffing levels in seniors' care, B.C.'s NDP government committed $240 million to bringing an additional 900 care aides into long-term care.
 
It's a badly needed investment for workers, who desperately need more time to care for their residents, and a welcome relief for families who fear, that without enough staff, their loved ones will not get the level or the quality of care they need.
And after a 16-year-long fightback against the BC Liberals' punishing legislation (Bills 29 and 94) – which robbed health care workers of critical job security protections, and facilitated the privatization of health services in our hospitals and long-term care homes – 2018 drew to a close with the promise of a new path forward.
Together, with anticipated changes to B.C.'s Labour Code next year, that victory will see health care workers regain basic job security protections when work is contracted out, and will put an end to the mass firing of workers when contracts change hands (see page 8).
At the same time, government has taken action on several key issues HEU has fought for over the years.
They've stopped using Public-Private Partnerships (P3s) to build new hospital infrastructure. They're opening public surgical clinics to reduce waitlists, providing more diagnostic services such as MRIs, and they're cracking down on private clinics which engage in illegal extra-billing.
"For years, we advocated for these solutions, and were completely ignored by a government focused on tearing our public system apart and handing it over to corporations, piece by piece," says HEU secretary-business manager Jennifer Whiteside.
"But in the past year, there has been an astonishing reinvestment in care at all levels."
On other fronts, HEU continued to bring new members into the union. In 2018, 1,075 workers joined HEU.
And strong local campaigns saved the jobs of HEU members facing layoffs due to contracting out, contract-flipping and staff replacement.
At Royal Columbian Hospital, that local successfully fought a P3 project that would have contracted out 40 trades and maintenance workers.
New members at Madison and Lakeshore care homes in Coquitlam stopped the mass firing of more than 100 workers through two contract flips.
And in Bella Bella, Vancouver Coastal backed down on a plan to replace the care aides, who live in that community, with LPNs from outside agencies.
"Our members are always a force to be reckoned with," says Whiteside. "Their activism is at the core of every gain we make, big or small."
2018 was also a year when four out of every five HEU members were at the bargaining table – in facilities, community health, community social services and in the union's growing independent long-term care sector.
As the year draws to a close, Whiteside says, "There's no question, we have a lot on our plate in 2019. But we're ready to move into our 75th anniversary year with pride in all that we've achieved, and with confidence in all that we are about to achieve in the new year ahead."