Did you get your flu shot?
Government's policy applies to all health care workers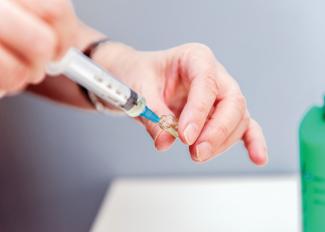 News Blog
Edition
Fall/Winter 2016, Guardian
Besides rain, snow and frigid temperatures, the winter months also bring influenza season, usually from late November to the end of March.
According to Canada's Public Health Agency, more than 7,000 Canadians were hospitalized last year with influenza, including a record-breaking 600 flu-related deaths.
That's why it's important to review workplace flu shot policies – which are aimed at keeping health care workers and their vulnerable patients and residents safe – and to ensure HEU members know their rights and responsibilities in complying with established protocols.
When the B.C. Ministry of Health introduced the controversial Health Care Worker Influenza Control Program Policy  four years ago, a group of health care unions, led by HEU and HSA, filed a grievance around its implementation. As a result, the policy was modified in the summer of 2013.
Original policy provisions required health care workers to wear an identifying badge if they had received the flu shot and to notify a supervisor if they knew of any policy violations – forcing workers to be "whistleblowers".
The revised policy, however, removed the requirement to wear a badge and altered the language to read that workers were now "expected" rather than "required" to report non-compliance.
The unions also pushed back on the mandatory nature of the policy, particularly around wearing masks. But on October 23, 2013, an arbitrator upheld the employers' directive that health care workers, who do not get a flu shot, must wear a mask at work throughout the flu season – even if there's not a declared influenza outbreak.
Since that ruling, all health personnel must provide proof they've had a flu shot. If not, they're required to wear a mask while on duty. The employer must provide enough properly fitted and safe masks for all employees.
And if workers decline to be immunized without justification – such as a medical reason supported in writing by a physician – and also refuse to wear a mask, then they may be subject to progressive discipline, including termination.
Although the Ontario Nurses' Association was successful in its "Vaccinate or Mask Policy" arbitration in 2015, B.C. is a different story as there's clear language around vaccinations in our collective agreements (see facilities Article 6.02, for example).
All health care workers in hospitals, residential care facilities and in community health are covered by this provincial policy. It also includes volunteers, outside contractors and visitors.