How to apply for HEU education
From the Guardian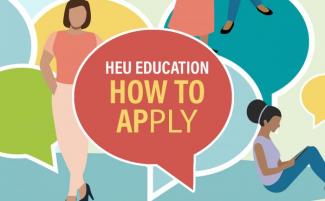 CHOOSING A COURSE
Some workshops are aimed at members who have taken on specific roles in their local, like shop stewards, OH&S stewards, and local executive. These classes are to help train and support them to do their duties.
Other workshops and events are open to all members to apply, while some are designed for our members who are part of equity-seeking groups.
Every new workshop is announced in the union's weekly mailing to each local, and listed on our Education page. If you follow HEU on Facebook or Instagram, you will also see classes announced.
HOW TO APPLY
Once a workshop is scheduled, information and an application form are sent in the union's weekly mailing to each local, and can be downloaded under the course description on our Education page
Depending on the workshop, you will be required to complete your application in one of two ways. These requirements will be outlined in the information letter.
For some workshops, your completed application must be signed by a member of your local executive. For others, applications are reviewed by the HEU Education Department.
Both types of applications, signed and unsigned, need to be submitted to HEU Provincial Office yourself.
The application may ask questions such as: "Why do you want to take this workshop?" and "How will you use the skills and knowledge you gain?" You may also be asked about your involvement with your local, and any relevant experience.
FINDING THE TIME TO ATTEND
Most HEU collective agreements contain a provision that the employer make their best efforts to accommodate paid time off for union business, which includes education. It is up to the member to contact their employer and make arrangements.
HEU covers costs for members to participate in the education program. This may include: travel and accommodation, as required; per diems for meals; accommodation for disabilities; and reimbursement for dependent care.
If you have concerns about what expenses are covered, or have special needs, please contact the Education Department.