Love in scrubs: 35 years together
From the Guardian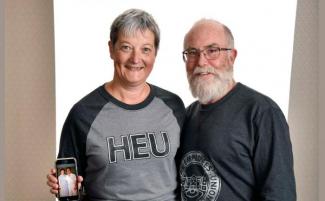 Julie and Tom Ovens graduated from care aide training 35 years ago, and took their first jobs together at a West Vancouver nursing home. From then on, they've rarely worked apart.  
For the past 25 years, the pair has shared the challenges and adventures of a care aide career at the Chilliwack General Hospital.
When they met in 1982, Julie was a dietary aide, and Tom was working in the shipyards. Julie decided to enroll in the care aide program at Capilano College, and Tom accompanied her to an information session.
"They asked me if I wanted to apply too, and I said, 'no, I'm just here with her'," Tom recalled.
But he'd been recently laid off from his welding job, and unemployment benefits would pay for care aide training, so he decided to take a chance.
"I thought it was only temporary," he said. "I kept saying that. But in the 2000s, I finally decided – this is fairly permanent."
When their children were young, Tom and Julie would take opposite shifts. That way, one was always able to be home with the kids, and they could hand off child care during shift changes. Julie was able to work casual, when necessary, and their health care skills were always in demand.
Like many HEU members working in long-term care, their residents became like family, and the Ovens and their children helped make holidays at the facilities special. "On New Year's, we'd all show up with hats and go around and ring bells," said Julie. "And we made sure we took the kids to show off their Halloween costumes."
The family went through tough times, though. They suffered through the BC Liberals' privatization and program cuts of the early 2000s, when over 8,000 HEU members were laid off.
Tom and Julie kept their jobs, but both their paycheques dropped by 15 per cent, an alarming situation for a young family with two kids and a mortgage.
"We sold our house, my parents sold their house, and we moved in all together," Julie said. "Otherwise we would have gone bankrupt."
Working together, they say, gives them someone to count on at work, and a sympathetic listener and problem-solver when there are frustrations on the job.
"We get great empathy and support from each other," said Julie. "We understand each other's frustration. We have a built-in support system."
Tom agrees, and adds that he always looks to Julie for help when he needs a two-person team. "We work well together."
They both feel their closeness usually eases stress, but when Tom was injured at work six years ago, Julie admits the proximity made it tough. "I overheard the Code White, I was right there. I lived through it with him."
Julie had long been active in the union, but the incident inspired her to get more involved with workplace safety. She joined the JOHS committee, and is currently a local shop steward and OH&S steward. Tom is trustee of the local and facilitates Code White training for Fraser Health.
"You always have to make sure you have a professional and private life," Julie said. "To this day, even though we've worked at Chilliwack Hospital for 25 years, there are many people who still don't know we're husband and wife. Even if we were having a debate at home about something, once you get to work, you've got to put that on a backburner."
Tom and Julie are beginning to think about retirement, but have no firm plans yet. A little travel, maybe even continue to pick up a few shifts here and there. One thing they're pretty sure about, though: they'll be doing it together.
by Elaine Littmann