New bill proposes key improvements for Ontario workers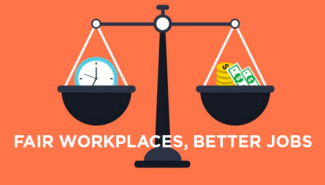 News Blog
Edition
Guardian Fall/Winter 2017
It's The Law column
by Kaity Cooper
Fair workplaces, better jobs? Yes!  
If you think B.C.'s labour and employment laws are hopelessly out of date, you are not alone. For years, unions and workers' groups have been advocating for improved workplace protections.
The good news is, Ontario recently proposed sweeping changes to their employment and labour laws that could pave the way for other provinces to follow.  
Bill 148, Fair Workplaces, Better Jobs Act, 2017 targets vulnerable workers such as casual, seasonal and temporary workers. If passed, the bill would amend Ontario's Employment Standards Act to raise the minimum wage from $11.40 per hour to $15 per hour by 2019.
It would also give all workers access to 10 days of personal emergency leave without a 'sick note', two of which would be paid.
The bill would also make changes to the Labour Relations Act. Those changes would make it easier for vulnerable workers to unionize and protect employees from dismissal, without just cause, between certification and a first collective agreement.
It would also impose successorship on contracting out in the building services sector. This means that when work related to security, cleaning or maintenance is contracted out, or when a contract is flipped, workers would be able to keep their union representation and their existing collective agreements.
Successorship in contracting out is something HEU has been fighting for in B.C., due to the devastating impact on health care workers and the public health care system.
In Ontario, these successor rights could also apply to any government contract.
Here in B.C., the new NDP government has already announced a Fair Wages Commission to decide the provincial minimum wage. At HEU, we are hopeful this is just the beginning.