Reach out if you're not OK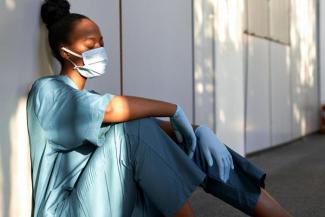 News Blog
Health care workers deserve working conditions that are safe for your physical and mental health. That's what we fight for as a union every day -- more staff, a worker voice on health and safety, and respectful workplaces.
But there's no question that during this once-in-a-generation pandemic emergency, many HEU members are experiencing higher levels of stress and anxiety than usual. It takes a toll, and it's OK to ask for help.
We want you to know there are resources that are just for health care workers. 
These resources might be helpful for you or your colleagues. 
1. Crisis Line: Call anytime at 1-800-784-2433 or 310-6789 in B.C.
2. Care to Speak:
Peer support: 1-866-802-7337 (PEER) (Monday to Friday, 5 p.m. to 9 p.m.)
Online chat support: https://www.careforcaregivers.ca/caretospeak/
Monday to Friday, 5 p.m. to 9 p.m., and Monday, Tuesday, and Wednesday from 10 a.m. to 2 p.m..
3. Care for Caregivers: This site has information, workshops and daily coping tips to help support good mental health for healthcare workers. https://careforcaregivers.ca/
4. Your employer's Employee Assistance Program.
It is important to reach out, seek connection, and ask for help.
An extended list of resources is also available on our COVID-19 page under Mental Health Resources: https://www.heu.org/heu-and-covid-19