The right to talk health and safety with your union
IT'S THE LAW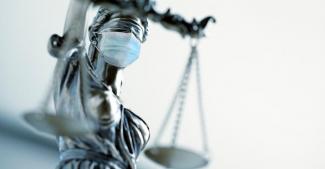 News Blog
"There are two residents with COVID-19 on my wing and we've run out of N95 respirators." "My manager is restricting housekeepers to one surgical mask per shift." "As a food service worker, I'm expected to deliver meals to residents, but I haven't been told which residents have COVID-19."
These are just a few of the health and safety issues that have arisen for health care workers as a result of the COVID-19 pandemic. However, some workers are afraid that if they speak up about their health and safety concerns to their manager or their union steward, they might face punishment, be it discipline, or less obvious retaliation like being offered fewer shifts or overtime opportunities.
Fortunately, the Workers Compensation Act is crystal clear – workers have a right to communicate about health and safety issues to their employer, WorkSafeBC, and their union. An important part of that right is to not be penalized in any way for such communication.
So, what can you do if your employer penalizes you for raising health and safety concerns? First, you should report this to your shop steward. They can help you file a "prohibited action" complaint through WorkSafeBC.
WorkSafeBC will investigate your complaint, and can order your employer to stop the "prohibited action", and provide you with a remedy to make you whole. That could be lost wages, clearing your record of all discipline, or something else.
A safe and healthy workplace is a legal right — not only during the pandemic, but at all times. The Workers Compensation Act is there to ensure workers can speak freely about health and safety concerns without fear of retaliation.
Originally published in the Summer 2020 issue of the Guardian