HEU in solidarity with Pacific Blue Cross staff
CUPE Local 1816 has been locked out by PBC in bargaining dispute over attacks on retirement benefits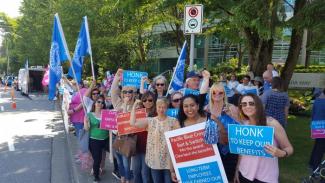 The Hospital Employees' Union is supporting members of CUPE Local 1816 in their collective bargaining dispute with Pacific Blue Cross (PBC) in Burnaby.
Last month, PBC staff gave their bargaining committee a 98 per cent strike mandate. On July 7, PBC locked out the workers, and their Burnaby offices are now behind picket lines.
The main issue in the dispute is the employer's attack on retiree benefits.
PBC is the benefits carrier for tens of thousands of HEU members.
"The employer's heavy-handed tactics stand in the way of reaching a fair deal with PBC members," says HEU secretary-business manager Jennifer Whiteside.
"We urge PBC to change course and get back to the table with CUPE Local 1816."
HEU members can support CUPE Local 1816 members on their picket line at Willingdon and Gilmore in Burnaby. They can also contact PBC CEO Jan Grude by email at jgrude@pac.bluecross.ca and urge him to get back to the bargaining table.
During this dispute, HEU members should expect delays in the processing of their benefits claims.