NDP government extends mental disorder presumption to care aides and nurses
Change means fewer barriers to workers' compensation benefits for those impacted by violence and other work-related trauma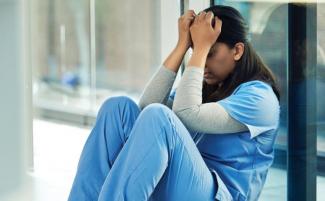 Newsletter
B.C.'s labour minister Harry Bains has announced that care aides and community health workers (who are registered with the BC Care Aide and Community Health Worker Registry and working in publicly funded services) and nurses will face fewer barriers to having their workers' compensation claims accepted for work-related mental disorders.
The extension of the mental disorder presumption recognizes that these workers are at higher risk of violence and other trauma in the workplace that could contribute to a mental disorder such as post-traumatic stress disorder (PTSD) or other illnesses.
It means that the burden of proof that a mental disorder is not related to workplace events is shifted to the employer or WorkSafeBC and will make it easier for impacted members to have their claims accepted.
HEU secretary-business manager Jennifer Whiteside says the union advocated for and supports the decision to extend the mental disorder presumption to care aides and community health workers, in addition to nurses.
"Our members – care aides, community health workers and nurses – face extraordinarily high risks for violence and other traumatic events that can lead to PTSD and other mental disorders," says Whiteside.
"This extension of the presumption to these workers is an important acknowledgement by government of that risk.
"We will also continue to push for this presumption to be further extended to include other health and social services workers who are at risk – and more broadly to all workers who find themselves suffering from trauma experienced on the job."
Read the government's announcement here.