In the latest Guardian, HEU member Jo Owens discusses her new book A Funny Kind of Paradise, published by Random House. Owens has worked as a care aide for more than 20 years at Mount St. Mary's Hospital in Victoria.
Image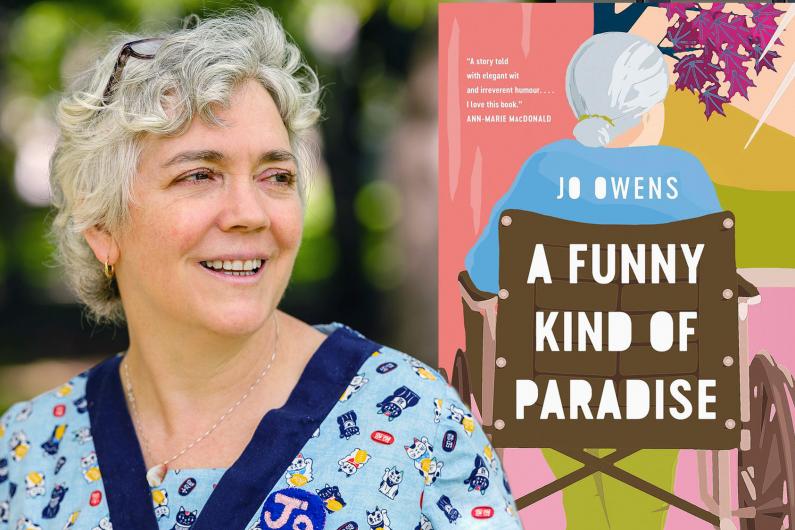 Who is your book about?
A Funny Kind of Paradise is about a strong woman named Francesca, who is absolutely leveled by a debilitating stroke, and ends up in extended care.
At first, she's angry with her situation. But over time, she becomes interested in what's going on around her. She thinks a lot about what's under her control, and what she can do about her future.
What made you want to write it?
When former B.C. Liberal Premier Gordon Campbell slashed health care workers' wages in 2004, we were all so angry. We would say, "Those people in government have no clue what we do in our job."
To make myself feel better, I began taking notes about what I did at work. All of the characters in my book are fictional, but my book is based on my work experience.
I also was thinking about how to be a better care aide. I wanted to imagine myself as one of my clients, to increase my empathy.
Do your characters talk about their union?
The care aides in the book talk about their jobs and the union. I'm grateful that I have a union that supports me and helps me have a living wage.
I'm a big believer in public services, including in long-term care. When you're dealing with people in need, you shouldn't have profit involved.
We hear all the time about terrible places to work, and it's doesn't have to be like that. We can do so much better.
Has your work as a care aide helped you as a writer?
When I found my job as a care aide, I found what I'm supposed to be doing in life. My work has made me a better person in every way, including as a writer. Writing is my passion, but it's not my bread and butter. Being a care aide is my passion and my bread and butter.
To my fellow HEU members, I want to say thank you so much for everything you do. Thank you for the heart that you put into your job. Health care workers are amazing people.
Excerpt from A Funny Kind of Paradise
"Let's see what we can do with this hair, Francesca. You look a little wild." I let the tears fall.
"It's not just the clothes, is it?" said Lily, reading my mind. "It's everything, isn't it? Being here, not being home, losing your mobility, not having any privacy … it's so hard, isn't it?" Brush, brush, brush.
Lily leaned in and whispered in my ear so privately I almost thought I imagined it. "Hold on, Francesca," she said. "There are angels everywhere. Hold on. You'll be okay."
Surprised, taken aback, my breath burst out.