NOTE: THE DEADLINE HAS BEEN EXTENDED IF YOU MISSED SUNDAY'S DEADLINE. YOU CAN REGISTER ON MONDAY MARCH 30 BETWEEN 6 P.M. AND 10 P.M.
Health care workers with jobs at more than one site must register preference with Provincial Health Office by 5 p.m. on Sunday, March 29 at www.bchealthstaffing.ca
Image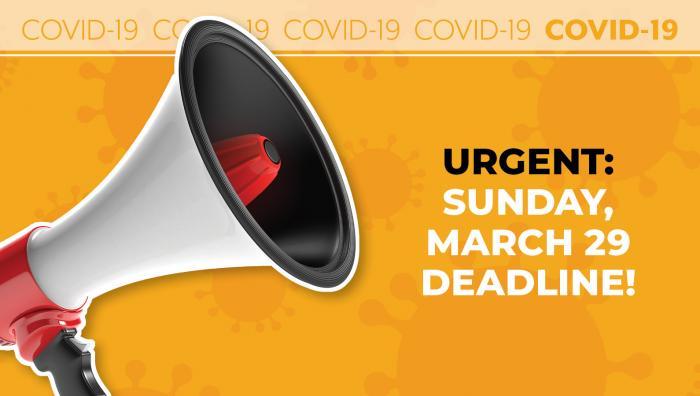 The Provincial Health Office is asking health care workers employed at more than one site to indicate their preferences should they be restricted to a single site as part of public health efforts to prevent the spread of COVID-19.
HEU members working at more than one site in hospitals/acute care, long-term care and assisted living, or a provincial mental health facility must indicate which of those sites they prefer to work at for the duration of a public health order for single site staffing.
Registration is open to employees of health authorities, contracted long-term care homes and assisted living residences, and any subcontractors including for both care and support services.
If HEU members have already been assigned to a single site, the union recommends that you still register your preferences. You can only register preferences for sites where you currently work (including as a casual).
The website www.bchealthstaffing.ca was launched by the Provincial Health Office on the evening of March 27 and flows from the one of two orders issued by Provincial Health Officer Dr. Bonnie Henry on March 26.
The deadline for registration deadline is 5 p.m. on March 29.
The second Order authorizes regional medical health officers to restrict staff to a single long-term care site though workers can still have second jobs in community health or community social services.
Because this order impacts many workers who may depend on multiple jobs to earn a living, the union advocated for language that prohibits long-term care operators and subcontractors from terminating or penalizing staff, and provides for the continuance of benefits should staff be directed to work for another operator.
The order also contains a number of principles that will be considered in assigning staff should public health officials designate single staff sites.
The government has also committed to matching Facilities or Nurses collective agreement rates at sites impacted by single staff orders.