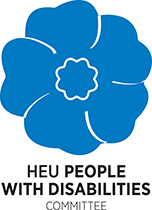 Check out our colouring contest - deadline May 17, 2021
The People with Disabilities Standing Committee (PWD) is for HEU members who are: disabled and working, on long-term disability (LTD), receiving WorkSafeBC benefits, or on an extended medical leave. 
Disabilities can be physical (i.e. sight, hearing, mobility) or invisible (i.e. mental health, addiction, chronic pain).
The committee promotes the contributions of workers with disabilities, advocates for improvements to disability benefits and resources, as well as accessibility.
For information on occupational health and safety, including educational workshops, click here.
Enhanced Disability Management Program (EDMP) information can be found here.
December 3 is International Day of Persons with Disabilities. 
The HEU People with Disabilities Standing Committee encourages members to use this day to learn more about the experiences and challenges of people with disabilities.