Image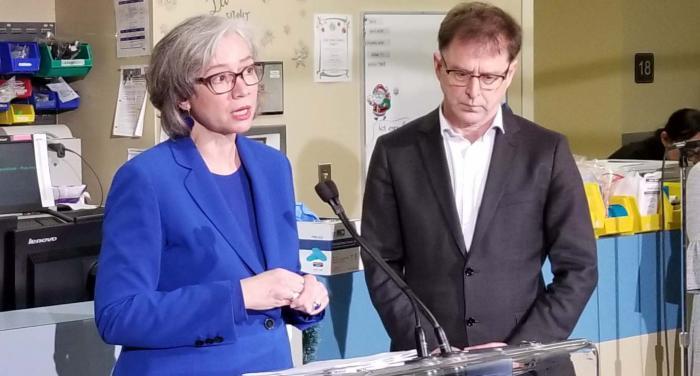 HEU secretary-business manager Jennifer Whiteside co-chaired a working group that developed the plan for a new health and safety organization with a mandate to reduce injuries and improve safety in B.C.'s health sector.
On December 8, Whiteside joined Health Minister Adrian Dix for a press conference at St. Paul's Hospital in Vancouver to announce the next steps in rolling out this new initiative.
Here's what she said:
I want to start by acknowledging our partners in this very important project – a project that seeks to make health care workplaces safer right across the province – and on every part of the health care team.
All our labour partners in the bargaining associations – and the Doctors of BC – came out of the last round of public sector bargaining with a common commitment. A commitment to do more to address the very serious health and safety crisis all of our members face as we work together to deliver care to British Columbians.
And we were very fortunate to be joined in this work by B.C.'s public health employers, with the support of Minister Dix and the provincial government. It is an irony that those who are charged with providing safe, quality health care to British Columbians are themselves put at such high risk of injury in the course of their work.
By many measures, our health care workplaces are some of the most unsafe in the province. Musculoskeletal injuries top the list in the health care sector, but injuries related to violence are on the rise, and that is deeply concerning.
The province has provided clear direction to health employers to implement measures that ensure psychologically healthy workplaces, and to prevent violence against health care workers. Our partners in this project recognize that it will take a coordinated system-wide approach to really move the dial on reducing injuries and creating safer workplaces. This sector-wide approach works.
The Occupational Health and Safety Agency for Healthcare – which operated from 1999 to 2010 – demonstrated its value with declining injury rates and we continue to benefit from the projects, tools and best practices they developed.
In the years since the BC Liberals eliminated this agency, our efforts have lacked strong central coordination. That has made it more difficult to share information, and scale up best practices.
This new organization will support all stakeholders in the sector to promote a safe and healthy work environment, and a strong organizational safety culture.
We'll do this through prevention initiatives, addressing workload, and promoting safer work practices and healthy workforces.
The organization will work to prevent and reduce injuries – both physical and psychological – along with occupational diseases.
The new organization will share information, data, experience and best practices.
A focus on safety will improve the lives of health care workers while also improving the quality of care. It will save money and promote retention of skilled health care workers.
The plan we have put in place represents a unique consensus by all parties on how we will tackle the health and safety crisis in health care.
It seems like it's been a very long time since we've had an opportunity to work together to build something so important for the benefit of the health care system.
I want to thank the co-chair of the working group, Michael McMillan, and the leadership within the health authorities – for their important contributions.
And I'd like to express deep gratitude to my colleagues in the union bargaining associations and the Doctors of BC for bringing your expertise, experience and passion to this project – and for the work you do every day to make workplaces safer for all of our members.
– Jennifer Whiteside