Image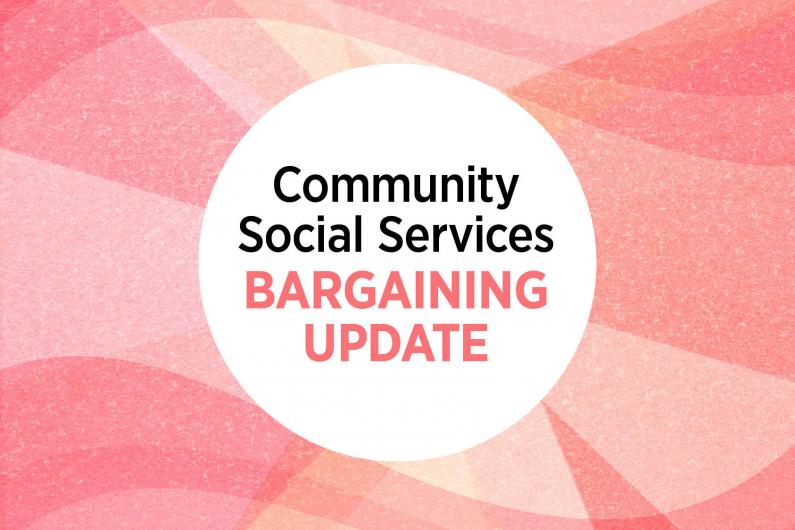 Collective bargaining resumed between the nine-union Community Social Services Bargaining Association (CSSBA) and the provincial Community Social Services Employers' Association (CSSEA) this past week to negotiate a new contract for 17,000 unionized workers in the sector.
Talks were suspended on Monday after the latest proposal put forward by the employers' association failed to meet the needs identified by workers in the sector.
Members working in the CSSBA have been clear that their priorities include a fair and equitable compensation package, meaningful recognition of rights for Indigenous workers and mental health supports.
CSSBA members work with some of the most vulnerable members of society and need an agreement that allows workers to provide quality care for those we support. 
Discussions last week have been challenging and the bargaining committee doesn't feel that progress is being made on the fundamental bargaining priorities.
Government has expressed a strong commitment to reconciliation, and we believe this commitment should be reflected in the collective agreement. The bargaining team is seeking improvements that recognize cultural capacity and competency in supporting Indigenous families when working with Indigenous agencies. 
The bargaining committee is not prepared to bring back an agreement to members that doesn't meet the key priorities, including a safe and healthy workplace and a compensation package that protects against rising costs and addresses recruitment and retention.
The bargaining committee will be back at the negotiating table at a later date and will keep you updated as discussions continue.