Diversity, equity and inclusion project hosts meetings for HEU members from equity-seeking groups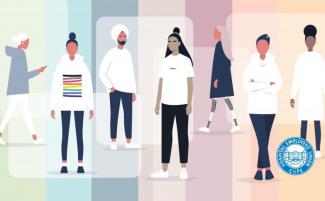 News Blog
As part of the Diversity, Equity and Inclusion (DEI) consultations with members, the DEI Working Group is hosting a series of DEI equity group meetings designated for members who identify as women, racialized/people of colour, Indigenous, people with disabilities, LGBTQ2S+, or young workers.
These sessions are an extension of the DEI consultations and will take place from May 5 to 14. Members from equity-seeking groups can sign up for these meetings at: www.heu.org/dei-equity-groups.
What are DEI equity group meetings?
As a social justice union working towards equity, it is important that we create spaces for voices that are usually left out and marginalized.
Creating a space, where members who share similar backgrounds can come together to talk about common experiences, can foster a sense of safety and belonging and can increase members' engagement.
From May 5-14, the DEI Working Group will be hosting the following DEI equity group
meetings:
•    People with Disabilities (May 5, 9 am–12 pm)
•    Women's (May 5, 3:30–6:30 pm)
•    BIPOC – Ethnic Diversity (May 7, 9 am–12pm)
•    Young Workers (May 7, 4:30–7:30pm)
•    LGB+ (May 10, 9 am–12 pm)
•    Indigenous Peoples (May 10, 3:30–6:30 pm)
•    Trans, Non-binary, Two Spirit (May 14, 4:30– 7:30 pm)
These DEI equity group meetings will help guide our DEI project, as we move towards a more inclusive future.
HEU members who identify with any of the equity-seeking groups listed above are encouraged to sign up for these meetings to share their thoughts and ideas about representation issues at our union.