Let's continue to improve the lives of workers
by Jennifer Whiteside, HEU Secretary-Business Manager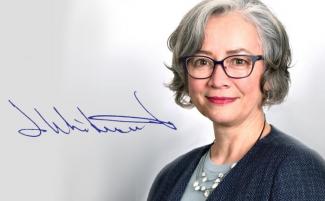 News Blog
I won't forget March 7. That day, I learned that a resident at Lynn Valley Care Centre had COVID-19. I knew the workers would be scared. And I knew that day marked a turning point for the province as we faced an unprecedented public health emergency.
HEU members have cared for British Columbians with incredible dedication during this pandemic. They've put their health and well- being on the line. They've uprooted their routines, stretched their skills and demonstrated compassion under enormous pressure.
And as your union, we've been with you every step of the way. Soon after the outbreak, HEU began negotiations with employers and government for workers in long-term care and assisted living. We secured an agreement that moved wage rates to the standards in the Facilities and other provincial agreements, so that workers limited to one site would not be economically disadvantaged.
This collaboration is in stark contrast to the experience of health care workers elsewhere in Canada where governments used emergency powers to roll back workers' rights.
Still, the pandemic demands much of working people and especially health care workers. And our relationships with employers will be challenged as we hold them accountable. They must provide safe and respectful workplaces in a system under stress.
COVID-19's economic impact has been devastating for working people. More than 350,000 British Columbians lost their jobs during the pandemic. The economy will take years to recover.
We must protect workers and our communities as we rebuild the economy. We cannot allow employers to push for austerity.
We will fight for a just recovery that improves workers' lives, with women and racialized workers at the centre.
It means that HEU continues to fight for contracted housekeepers and dietary workers who earn less today than they did during the 2003 SARS epidemic. The time to bring justice to these workers is overdue.
In seniors' care, we need to stabilize working and caring conditions so badly undermined by BC Liberal policies. We'll fight to make wage levelling in this sector permanent.
The Lynn Valley Care Centre was the site of Canada's first COVID-related death, and the outbreak claimed 20 lives there. At Langley Lodge, 25 residents died. Dozens of workers fell ill.
In the last few weeks, care aides from these two care homes and others joined HEU.
They've united their voices for better working and caring conditions – and fair treatment from their employer. Workers know we are in this fight with them during a pandemic and beyond.
Originally published in the Summer 2020 issue of the Guardian