HEU elects new leaders to top positions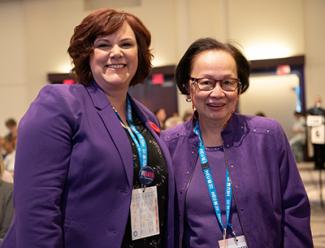 Delegates to HEU's 31st biennial convention made history this morning by electing the first woman president – Barb Nederpel, a health records clerk at Royal Inland Hospital in Kamloops.
"I have to acknowledge the history that we're making today," Nederpel told delegates in her acceptance speech. "It's not my victory. I stand on the shoulder of giants. We all do. And I give thanks to those who came before me."
Longtime HEU activist and Provincial Executive member Betty Valenzuela also made history today as the first Filipina-Canadian woman elected financial secretary, replacing Donisa Bernardo who recently announced her retirement.
"This union owes me nothing," said Valenzuela, a full-time shop steward at Vancouver General Hospital. "I owe the union. That's why I want to continue to serve."
Nederpel and Valenzuela will join secretary-business manager Jennifer Whiteside as the top officers of the union.
B.C. Federation of Labour president Irene Lanzinger facilitated the union's Provincial Executive elections.
In addition to yesterday's regional vice-president positions, delegates today elected Ken Robinson, 1st vice-president; Jodi George, 2nd vice-president; Bill McMullan, 3rd vice-president; Talitha Dekker, senior trustee; Barb Biley, senior trustee elect; and Ken Bennett, trustee.
Alternates will be elected on Thursday.
Following an emotional and powerful discussion, delegates passed resolutions to support paid special leave for members impacted by domestic violence, and directed the union to continue to provide and expand its current education program on the issue.
They also adopted constitutional amendments around trade union offenses.
Praise from national union
CUPE National secretary treasurer Charles Fleury brought greetings of solidarity and unity to convention delegates.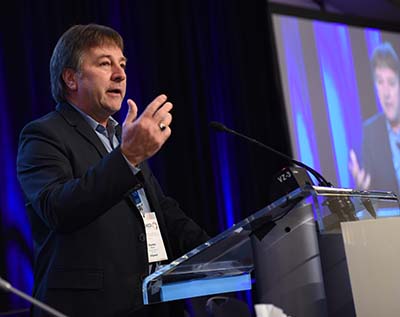 "I have to say I am inspired by the very powerful theme of your convention this year: Powered by Solidarity," said Fleury. "It is so true. United, we are all stronger."
He also applauded HEU members on the difference they make to the lives of British Columbians.
"In your workplaces each and every day, you make improvements for patients and residents," said Fleury. "For that, I want to thank each and every one of you."
Recognizing HEU's retiring financial secretary Donisa Bernardo, Fleury said, "You have always had the members at heart and you took good care of their money… I thank you, Donisa, for all of the work you have done for HEU."
Fraser Health Authority board chair Jim Sinclair, former president of the B.C. Federation of Labour, told delegates "health care is one of the most important forms of collective solidarity we practice as a society."
And he thanked HEU members for the work they do because "what you do keeps faith in the system and that's what will save it."
He warned there are powerful forces working against public medicare, who would like to "turn health care into a shopping spree."
Empowering women
Delegates had a full day of activities on Wednesday, as HEU's traditional Women's Gathering kicked off the day's itinerary.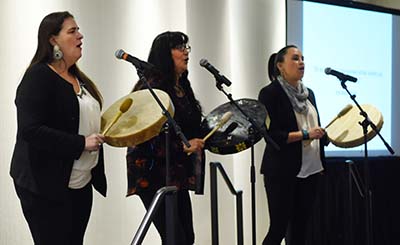 It featured a group of talented improv comics from Vancouver TheatreSports, along with energetic Indigenous performers M'Girl, and a keynote address from Jessie Kaur Lehail.
Lehail provided an inspiring and thought-provoking presentation on The Kaur Project, a unique storytelling initiative that gives voice to Sikh women.
"Sikh women take on the middle or last name Kaur as a means of challenging the classism and caste-ism inherent in traditional South Asian last names," said Lehail.
"Adopting Kaur as a last name challenges the patriarchal system of women having to take their husband's name."
Union celebrates equity
Last night's fun-filled equity celebrations featured drumming from popular women's troupe Sawagi Taiko, henna and rock painting, and comments from representatives of each of HEU's equity standing committees – Ethnic Diversity, Pink Triangle, Indigenous Peoples, People with disAbilities, and Women's.
Tonight, the young workers subcommittee is hosting an event for convention delegates. Everyone is welcome.