Young Workers Committee:
The Young Workers' Committee makes recommendations to and advises the Provincial Executive. The committee:
Seeks out and engages young workers (33 and under) of the Hospital Employees' Union to revitalize the union.
Raises awareness among all HEU members of youth issues.
Educates non-union and unemployed youth about the labour movement, social justice issues, and their rights.
Identifies and develops action plans on issues affecting young workers.
Young workers are the future of HEU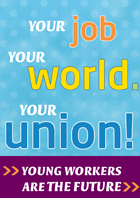 Young workers are the future shop stewards, local chairpersons, and even Provincial Executive members of this union.
Young workers are encouraged to talk to their shop steward or local chairperson and learn more about the role of unions in their job, and in their world.
Ideas for local activists!
Invite young workers to your next local meeting. Take the time to make it a warm and welcoming place.
Find out what issues matter to the young workers in your local.
Share stories with young workers about why you became active in the union.
Let young workers know that they can talk to you about their questions and ideas.
Host a pizza lunch or potluck and encourage young workers to attend. Use this opportunity to get to know each other.
Organize social events outside of the workplace (or after a local meeting).
Check out the Resource Guide for more ideas and suggestions.
Resources